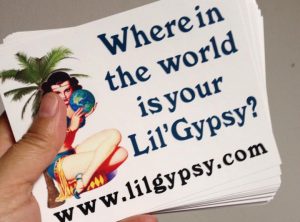 What an amazing honor and grand privilege it has been to serve this community. It has been no secret that I had absolutely no clue what in the world I was doing when I set this store into motion nearly 25 years ago. It was only by chance that I discovered this abandon retail space on the outskirts of this town. I have since, watched the town grow around me. I have learned so much from being here, in this store, in this area and in the community. I have learned how to be me. I have learned how to create my thoughts into actions and how those actions can make changes for myself and for others in this world. Being here has given me the confidence to be a better person and business person. I do not say this lightly. I would not be the person I see in the mirror today if it had not been for the great love and support from all that entered the LiL Gypsy door.
The years here have given me wonderful friends, great stories, amazing adventures and brought me to tears of sorrow along with moments of pure elated joy. I have seen nearly half my life through from the walls of this LiL Gypsy shop that once was at the very edge of town.
I can only thank all who have supported the LiL Gypsy and I tell you, when I think back over these years I am filled with great pride and love. I want you to know that if it were not for each of you, my world would be profoundly different. Thank you for coming to shop, for bringing your friends, for bringing your family. Thank you for putting up with me as I went through my personal and sometimes not so private turmoil. Thank you for letting me grow up, and not holding it against me. Thank you for it all. It was an amazing gift you all gave to me!
So, now what is next? During the winter months, my boyfriend and I will be on the Big Island of Hawaii running a bed and breakfast Poho' Aina near Pahoa Hawaii.
So, if you wish to vacation Ohana style – family style in the tropical jungle of the Hawaiian islands come and find us. Wander the tropical rain forest with us, soak in a thermo heated pond, walk across the lava flow, and do the best snorkeling ever. www.lilgypsy.com It's the best way to stay in the know. We have accommodations for groups, family, couples or singles. We will give you the same quality of service there you have received from us here.
The rest of the time we plan to be here – on the mainland, or near here, or traveling around here. We are working on a Mobil Gypsy unit…think about it, you know what I mean!
Please stay connected www.lilgypsy.com . Fan us on Facebook so you can see where in the world our travels take us – it will be a surprise to us as well! We will be dabbling in interesting things and will be posting those adventures from wherever the road might lead.
Thank you for the years and years of LiL Gypsy love.  A hui hou, until we meet again.
Love, Sam